Splendiferous Greetings! I hope you all had a Merry Christmas/Happy Hanukkah/Kwanzaa/Festivus, and here's an advance Happy New Year to you all.
This is what's been up in the week before Christmas.
Big stuff

A. Demonetisation Blues - 2
In what has to be the quickest and most embarrassing flip flop in this demonetisation debacle, the RBI issued and withdrew a circular in less than 48 hours. On 19th December came a notification stating that we wouldn't be allowed to deposit more than Rs. 5000 in old notes more than once, and if we wanted to, we had to explain to two bank officials why we hadn't yet deposited the money (simple answer: because we believed the Prime Minister). On 21st December came the u-turn - those with KYC compliant accounts won't have to explain why they're depositing the amount. This marked the 60th notification in 43 days from the RBI - a respectable run-rate for a T20 batsman, but a story of how one of the most respected, independent central banks has lost almost all credibility as a regulator of banks.
The u-turn seems to have been prompted not only by the widespread outrage from a citizenry having been made a fool of for believing the Government's promise (a very, very rare thing in this country :/), but also some serious push-back from the All India Bank Officers' Federation, representing bank employees who were already on the edge thanks to demonetisation. Being shaghai-ed into becoming de facto detectives for the RBI's foolhardy ideas probably pushed them over.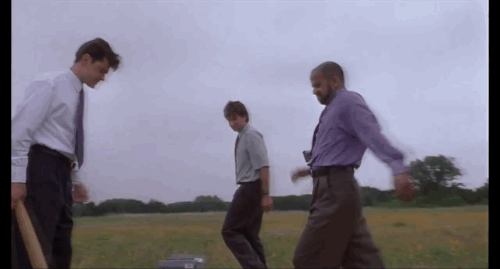 (the printer is the RBI in case you were wondering)
B. Working (wo)man's dues
Earlier this month, the Government set more cats among already jittery pigeons, after it announced now that employers would, by law, have to pay their employees by cheque or online payments only, and cleared an ordinance this week, seemingly to this effect.
The proposed amendment to the Payment of Wages law says something slightly different. Cheques and online payments are now permissible modes of payment and employers don't need employee's consent to pay them this way.
Lost in this din is that this move, far from helping employees, shifts the balance in favour of the employer. This Guardian piece sort of explains why employees are worried about it. Non-Government affiliated labour unions have also opposed it.
C. Tata Sons: Civil War
Unmindful of the larger economy coming crashing down around their ears, two of India's largest conglomerates have decided to go to war with each other in courts.
The first shots of the litigation battle so to speak were fired in the non-descript surroundings of the newly created National Company Law Tribunal. Cyrus Mistry has approached the NCLT under Section 241 alleging that, as a minority shareholder, there has been "oppression and mismanagement" in the running of Tata Sons. The NCLT has asked him to produce material on this, and adjourned the case to 31st January. Legal luminaries have lined up on either side, and even corporate India seems to be split in half over this...
This just all seems too familiar:
D. Ordinance pe ordinance, ordinance pe ordinance
After failing to pass in Parliament, the Enemy Property (Amendment and Validation) Ordinance has been re-promulgated for the fifth consecutive time. This particular ordinance has a long and tangled history and one which begins, like a lot of messed up things in this country, at Partition. The property left behind by those who migrated out of India to Pakistan were treated as enemy property and taken over by the Government through the Enemy Property Act, 1968, extending war-time laws for seizure of property.
This is a highly problematic Act, and in 2005, Amir Mohammed Khan, scion of the erstwhile Raja of Mahmudabad won a landmark judgment against the Central Government, getting back properties that had been seized under the Act. This ordinance is to try and overcome the judgement and "validate" the act of seizing some of these properties.
The re-promulgation of the amendment and validation speaks very poorly of our democracy. The recalcitrance of the Government in accepting the judgment of the Supreme Court is worrying. More so, when regular democratic procedures are being bypassed to keep this bill alive. The Supreme Court has deprecated this practice in the past, and has struck down an ordinance as a "fraud on the Constitutional provision" for being re-promulgated too many times consecutively. Given that this law disproportionately affects Muslims and their property in India, it requires serious debate before being passed, not just executive fiat.
Less big stuff
1. The Fake "Malda Fake Currency" case
Malda is reputed to be a "hub" of the fake currency racket in India with a significant percentage of the fake Indian currency notes (FICN) being ultimately traced there. The Special Cell of the Delhi Police added its two cents to the narrative by allegedly nabbing the "kingpins" in Delhi in a daring raid.
Except, that turned out to be hogwash.
A trial court in Delhi acquitted the two accused of transporting fake currency notes, pointing out the numerous inconsistencies and outright lies in the testimony of the Delhi Police's Special Cell officers.
This is not the first time the Special Cell has covered itself in ignominy. There has been a pattern of botched investigation and outright false implication of innocents, and has come under censure by both the CBI and the NIA for its mishandling of cases and blatant frame-ups. Perhaps its time to the Jamia Teachers Solidarity Association and disband this notorious unit.
2. MySpace injunction
It's almost 2017 and there's very little (non-nostalgic) reason to be talking about MySpace, the almost-defunct social network. Except, it was at the centre of a highly controversial order passed by a Single Judge of the Delhi High Court in 2011, by which it was obligated to pre-censor any material on its website that might infringe the copyright of the claimant, in that case, Super-Cassettes Industries. This order had its critics (here and here), pointing out specifically that it's impractical and absurd to make intermediaries liable for content they had no control over.
The Division Bench of the Delhi High Court, in appeal, has seen the light and set aside this order. Intermediaries like Facebook, YouTube and others can now breathe a bit.
Money quote:
"...the width of the directions [issued by the Single Judge] has resulted in what was colourfully described by the US Supreme Court in Reno v American Civil Liberties Union 521 US 244,as ―to burn the house to roast the pig"
3. Barack Obama does a Batman
The United States' Department of Homeland Security is dismantling the National Security Entry-Exit Registration System which was used to maintain surveillance on persons of Arab ethnicity and Muslim faith in the United States. Introduced in 2002 after the 9/11 terror attacks, this system, discriminatory and smacking of racial profiling, raised uncomfortable similarities with the internment of Japanese citizens during the Second World War. It was perhaps one of the signal failures of the Obama Administration that this was kept in place for almost the entire eight years, and only the prospect of it falling into the hands of President Trump (yup still can't believe that's happened) seems to have pushed them into dismantling the whole thing.
All resemblances to the closing scenes of The Dark Knight are purely coincidental.
4. Madras High Court "bans" Shariat Courts
The wires were abuzz with the news that the Madras High Court had "banned" so-called Shariat courts which were alleged to have been running a parallel extra constitutional judicial system in India. Coming as it does a few years after a massive fake court racket was discovered in Coimbatore, it was perhaps a response to someone trying to undermine the Indian judicial system.
Except, the Madras High Court didn't actually "ban" anyone. All it did was wonder how such "courts" could run on religious property which had to be used for religious purposes alone and directed the "concerned authorities" to take action. There is clearly a divergence of fact on what these "courts" are. On the one hand its proponents argue that this is merely a form of private mediation not prohibited under any law, and not a "court" in the strict sense. On the other hand, the PIL petitioner claims to have been harassed by such a "court" and wants the High Court to take action.
This is still a developing story, and perhaps outrage either way is at the moment unwarranted. As always, read before you tweet.
On that note, enjoy the last week of 2016 (...or face whatever this year still has in store for us).
Since I'll be travelling and legal news will be at a minimum, the next issue of the Contumacious Curmudgeon will hit your inboxes on the 9th of January, covering events over the next couple of weeks.
See you on the other side!
To sign up to future editions of Alok Prasanna Kumar's newsletter by email, please subscribe here, and follow him on Twitter at @alokpi. We also intend to feature future editions on Legally India, so please let us know if you liked it and other feedback in the comments below.
By reading the comments you agree that they are the (often anonymous) personal views and opinions of readers, which may be biased and unreliable, and for which Legally India therefore has no liability. If you believe a comment is inappropriate, please click 'Report to LI' below the comment and we will review it as soon as practicable.