A small example of our active Legal System



Here 2 diffrent-2 stories, one of them a common man
and 1 of them a Politician.
A common man get strict punishment for the little crime,while another side a politician get nothing for his big theft(2G Scam) of Rs 1.76 lakh crore.
Let's see 2G Scam in Brief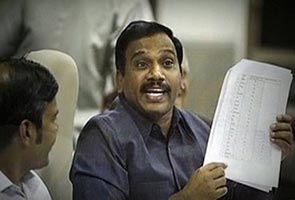 From the time allegations of misappropriation during the bidding for allocation of 2G spectrum surfaced, till Telecom Minister A Raja's ouster, high drama charged both politics in Delhi and Tamil Nadu. So what exactly is the Spectrum Scam that led to all this?
WHAT IS SPECTRUM SCAM?


2G licenses issued to private telecom players at throwaway prices in 2008

CAG: Spectrum scam has cost the government Rs 1.76 lakh crore

CAG: Rules and procedures flouted while issuing licenses


WHAT ARE THE CHARGES ON FORMER TELECOM MINISTER A RAJA?

CHEAP TELECOM LICENSES


Entry fee for spectrum licenses in 2008 pegged at 2001 prices

Mobile subscriber base had shot up to 350 million in 2008 from 4 million in 2001

NO PROCEDURES FOLLOWED
Rules changed after the game had begun

Cut-off date for applications advanced by a week

Licenses issued on a first-come-first-served basis

No proper auction process followed, no bids invited

Raja ignored advice of TRAI, Law Ministry, Finance Ministry

TRAI had recommended auctioning of spectrum at market rates


FAVOURITISM, CORPORATES ENCASH PREMIUM

Unitech, Swan Telecom got licenses without any prior telecom experience

Swan Telecom given license even though it did not meet eligibility criteria

Swan got license for Rs 1537 crore, sold 45% stake to Etisalat for Rs 4200 crore

Unitech Wireless got license for Rs 1661 crore, sold 60% stake for Rs 6200 crore
All nine companies paid DoT only Rs 10,772 crore for 2G licences



Now you can judge!






Courtesy- Dainik Bhaskar
By reading the comments you agree that they are the (often anonymous) personal views and opinions of readers, which may be biased and unreliable, and for which Legally India therefore has no liability. If you believe a comment is inappropriate, please click 'Report to LI' below the comment and we will review it as soon as practicable.