Delhi High Court Bar Association Dhcba
The Delhi high court Bar Association on Wednesday called off its strike protesting the clearance of bill by the Rajya Sabha to increase pecuniary jurisdiction of the high court as parliament adjourned before it could be passed by the Lok Sabha.
Rajya Sabha deciding to increase the pecuniary jurisdiction of district courts yesterday
, after the
district court bar had been on a back-to-back strike of nearly two weeks
.
Hot on the heels of the government getting ready to create special fast-track commercial divisions of all high courts, Delhi high court chief justice G Rohini has decided to redesignate four benches of the Delhi high court to exclusively handle commercial disputes, of which around 20,000 are currently pending.
"According to information released by the office of the Registrar General, Delhi high court, two benches hearing matters of Original jurisdiction, and two division benches, as Commercial Appellate courts, will start functioning from Thursday," reported the Indian Express.
"Two of these will be e-courts and will function as paperless courts. Sitting judges with the appropriate experience and expertise have already been appointed," reported The Hindu].
According to the Express, DHCBA secretary Abhijat said it was "alarming that the decision was taken without consulting the Bar" and said that it was a "prima facie meaningless order" since the issue of jurisdiction was to be finalised by the Parliament. "The decision is at best an administrative order which can't override or supplant a bill which is still being drafted," he said.
Rajiv Khosla (l.) and Abhijat Bal (r.)This week in Mint, Legally India dove into the complicated and fascinating politics of the Delhi bar.
The Rajya Sabha yesterday deferred passing the bill to increase the pecuniary jurisdiction of the Delhi high court, with some members saying that the reform should be clubbed with pending legislation to create commercial divisions in high courts (the Commercial Division of High Courts Bill 2009), with law minister DV Sadananda Gowda conceding to the demands, reported the PTI.
Two politicians by the JD(U) and the BJP made the suggestion, which Gowda seemed happy to accept according to the report.
The commercial divisions bill is currently being redrafted in line with law commission recommendations that have been taken up by the government in the budget.
A series of strikes for and against the bill by bar associations have plagued Delhi, with high court lawyers most recently striking in December 2014, giving six reasons that they are against the measure, which would move matters with a value of less than below Rs 2 crore from the Delhi high court to the district court.
Update: The Rajya Sabha debates stated the following: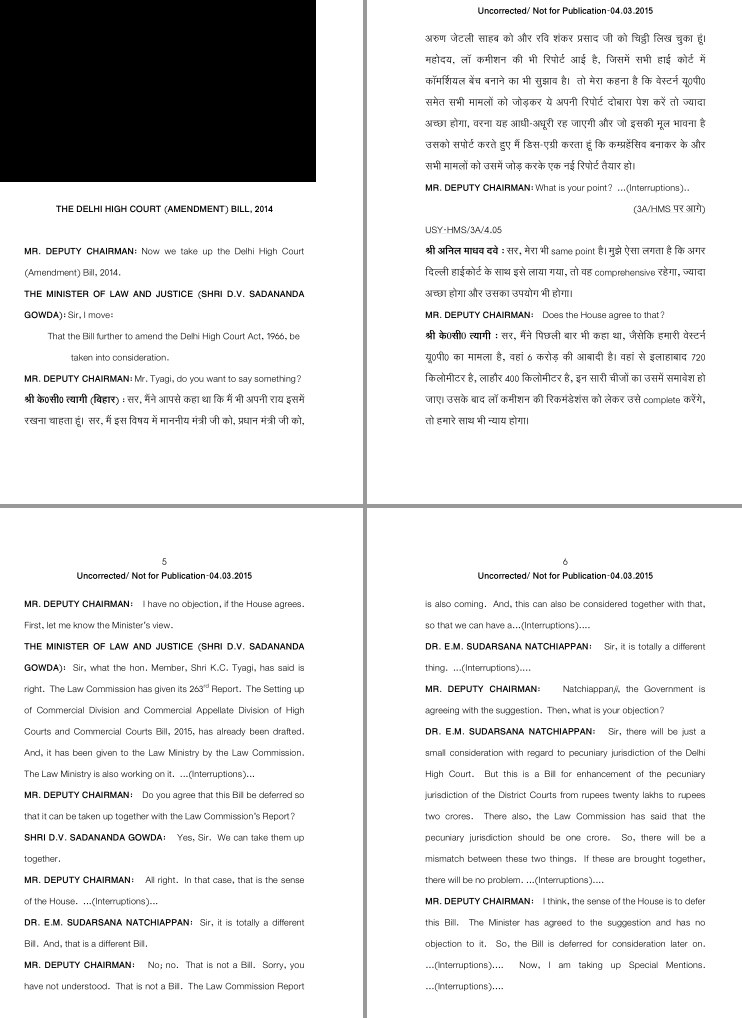 Lalit BhasinLegally India investigates in Mint how special interests have succeeded at and could end up indefinitely stalling reform of legal services, despite the government's best laid intentions.
The Delhi High Court's pecuniary jurisdiction' enhancement to Rs 2 crore, from the current Rs 20 lakh, crossed another small hurdle today as the Delhi High Court (Amendment) Bill 2014 was passed by the Rajya Sabha's standing committee, reported PTI and others.
The standing committee on law and personnel, which passed the bill, also stated in its report that the pecuniary jurisdiction of all high courts in the country should be made uniform. The bill will now pass two more readings in the Rajya Sabha before it can get the nod of the Lok Sabha and ultimately become law.
The amendment, which was introduced by the UPA government after a recommendation by former Delhi high court chief justice D Murugesan, faced opposition from the Delhi High Court Bar Association (DHCBA) since 2012, while Delhi's district lawyers went on a strike this year due to the delay in passing the bill and demanded its passage by the parliament's winter session.
The Delhi High Court Bar Association (DHCBA) on Monday wrote to Delhi high court chief justice G Rohini requesting new Delhi Mediation Centre guidelines, to stop the mediation centre allegedly being "run by few lawyers".
AIIMSIn India's first judgement on medical aid for rare diseases, the Delhi high court today directed the Delhi government to provide monthly medical treatment, free of cost, to a minor child afflicted with a rare disease (gaucher).
abmyvb1bNewly elected prez Rajiv Khosla opens DHCBA agenda to take back CD-filing rule, free parking, valets for lawyers, a website against corruption & more...
The AIIMS hospital denied treatment to a rickshaw puller's son suffering from a rare disease, because it was too costly. Senior counsel AS Chandhiok, appearing for the Delhi High Court Bar Association, said lawyers had raised Rs 7.8 lakh for the treatment, with the Delhi high court ordering AIIMS to continue treating the boy until the final judgment in the case.
Justice Manmohan said: "A patient cannot be denied treatment due to financial constraint and the State is bound to find a source to generate funds for the poor patients... [The Delhi government has] to find a way to provide medical aid to poor patients. Funds have to be created. There cannot be a vacuum." [DNA]
Ex-Delhi Bar Association president Rajiv Khosla has won the Delhi High Court Bar Association (DHCBA) elections, according to authoritative sources on Twitter.
Advocate Dushyant K Mahant tweeted that Khosla won with 2,074 votes as against 936 votes won by DK Sharma, who was the closest contender.
Presidential candidates PV Kapur and RP Luthra won 557 and 25 votes respectively, according to Mahant's sources.
These elections have been especially controversial with run-up conflicts for months between Khosla and other contenders, ultimately resulting in a stay of the December elections by the Supreme Court.
[Read more background to DHCBA politics here]
KhoslaFormer Delhi Bar Association president Rajiv Khosla explained his success in the Supreme Court in his battle against Delhi High Court Bar Association (DHCBA) president AS Chandhiok in the now-postponed DHCBA elections.
With the courts closed as much of Delhi voted today, the Delhi high court is reconsidering former DBA president Rajiv Khosla's plea against election rule amendments barring him from the 13 December DHCBA polls.
Vodafone Rs 1300 cr TP writ sent to DRP: The Bombay HC said that the Vodafone transfer pricing tax writ petition of the department's transfer pricing adjustment of Rs 1,300 crore, should be referred to the tax department's dispute resolution panel (DRP) [Mint]
CCI checks Ericsson-Micromax royalties: CCI has begun a probe to examine whether Ericsson cellphone patent royalties of 1.25% to 2% from Indian phone maker Micromax, are too high by virtue of abuse of its alleged dominant position [WSJ]
DHCBA election rules argued: Delhi HC reserves judgment on Delhi District Court Bar Association plea, filed by bar council Delhi member Rajiv Khosla, seeking amendments Delhi High Court Bar Association (DHCBA) over upcoming 13 December elections [PTI]
Lalu fodder scam bail notice to CBI: The SC's chief justice P Sathasivam and Justice Ranjan Gogoi issue notice to the CBI in Rashtirya Janata Dal leader Lalu Prasad's bail petition – argued by senior counsel Ram Jethmalani - over the fodder scam case [IBN Live]
Gruesome Kerala robbery decapitation death sentence commuted by SC justices BS Chauhan and SA Bobde for not being one of "gravest cases of extreme culpability" [The Hindu]
Sunburn's stolen Powerpoint: Sunburn festival moves Bombay HC at Goa to restrain rival festival from using Sunburn's Powerpoint presentations [TOI]
SC: Live-in couples deserve protection: An apex court bench of Justices KS Radhakrishnan and Pinaki Chandra Ghose has asked for an amendment to bring couples in non-married relationships into the ambit of Protection of Women from Domestic Violence Act [The Hindu / BBC]
Slicing Kerala HC benches? Minister Shashi Tharoor asks for Kerala HC bench in Thiruvananthapuram, going against the views of eminent ex-SC judge VR Krishna Iyer [PTI]
SC: Don't over-examine state decisions: SC bench of justices KS Radhakrishnan and AK Sikri says: "If every decision taken by the State is tested by a microscopic and a suspicious eye, the administration will come to a standstill and the decision-makers will lose all their initiative and enthusiasm." [PTI]
Bank can publish defaulters' photos: Bombay HC says it's ok for SBI to publish defaulters' photos in newspapers, as being in public interest [PTI]
Reprieve in TN lawyer clash: Madras' Madurai bench grants interim stay in criminal proceedings against leader of opposition, Vijayakanth, relating to violence in clashes with advocates in district court on 1 July [TOI]
Mumbai autos move writ on gas supply [DNA]
Law means Tejpal raped, says journalist who was allegedly raped by Tehelka editor-in-chief Tarun Tejpal, in a forceful and tightly-argued statement: "I don't know if I am ready to see myself as a 'rape victim', for my colleagues, friends, supporters and critics to see me thus. It is not the victim that categorizes crimes: it is the law. And in this case, the law is clear: what Mr. Tejpal did to me falls within the legal definition of rape" [Statement] In the meantime, Tejpal has reportedly landed in Goa to meet police there [Firstpost live blog]
SC allows jailed candidates: The SC has approved an amendment in the Representation of People Act, which allows jailed politicians to contest elections while in police custody, unless they are held guilty and convicted by a trial court [ANI]
Lawyers challenge DHCBA election bona fides: Delhi bar council member advocate Rajiv Khosla, on behalf of the Delhi District Court Bar Association, told the Delhi HC that the Delhi High Court Bar Association (DHCBA) constitution's election-related amendments are "malafide and illegal", and were made "unlawfully and arbitrarily" [PTI]
Sexual harassment committee demands: P&H HC lawyers are demanding setting up of a gender sensitisation and internal complaints committee in the premises of the HC and subordinate courts of Chandigarh, Punjab and Haryana [TOI]
Mega Karnataka Adalat: Five Karnataka high court judges are expected to dispose of 900 miscellaneous first appeals on insurance claims in six days. The claims have been pending in the HC since 2011. Dubbed the 'mega adalat', the initiative is part of a series of Lok Adalats being held in the state from 1 to 23 November [Bangalore Mirror]
The Delhi High Court Bar Association (DHCBA) today succeeded in its challenge to the Delhi government's tenfold court fee hike of August 2012.
Lover's tiff ends: The Delhi government settled the squabble between the Delhi bar and the bench by accepting the proposal to raise the district court's pecuniary jurisdiction to Rs 2 crore from Rs 20 lakh [Indlaw]
Notarised demands: The Notaries Association of India met the law minister to ask for identity cards for notaries, hike in their fees, qualifying examination to become a notary and the higher judiciary to conduct interviews of persons qualifying in that examination [TOI]
Juridical contest: Former Karnataka High Court Justice Chandrashekharaiah has expressed his desire to contest elections on a Janata Da party ticket through the Mandya Lok Sabha constitutency [Deccan Chronicle]
Blame games: 21 Bombay civic law officers have challenged the Bombay Metro Corporation's February circular making it a rule to fine its lawyers Rs 2,000 if they failed to get stays in its illegal construction and encroachment cases vacated [TOI]
Open court: DHCBA called off its Delhi HC desertion strike yesterday after a day-long full court consideration of the lawyers body's concerns against enhancing the HC's pecuniary jurisdiction to Rs 2 crore [PTI]
Three day comedy: Network18 TV channel Comedy Central's 10-day ban gets lifted on day three, after a Delhi HC division bench puts a stay on the I&B ministry's order banning the channel for "vulgar" and "offensive" content [Indian Television]
Life is short, live it imprisoned: The SC has ruled that life imprisonment really involves incarceration for a convict's whole life and not just for 14 years. Only the president and the governors can remit the sentence and allow the convict to be released [PTI]
Rajiv Gandhi PIL yojna: Chennai advocate V Santhakumaresan has filed a PIL in the Madras High Court asking for the reopening of the Rajiv Gandhi assassination case based on the reported statement of the CBI investigating officer that evidence in the case had not been handed over to the special investigation team [ANI]
Saucy Aussies: Aussie corporate lawyers have resorted to cold-calling clients to drum up new business. A Sydney firm source said: ""they'll wait for a journalist to publish with an article saying X CEO is thinking about acquiring Y company, and they'll straight away call them…" [Roll on Friday]
The Delhi High Court Bar Association (DHCBA) yesterday observed a strike against Delhi HC chief justice D Murugesan's proposal to enhance the HC's pecuniary jurisdiction from Rs 1 crore to Rs 2 crore. DHCBA members manned courtroom entry points and urged lawyers not to appear in their cases.
Litigants appeared before the courts without their lawyers, to take adjournments for their cases. [IANS]
All judges decided to support Murugesan's proposal after a full court meeting, and issued a statement that "the full court further deprecated the tone and tenor of the notice [of DHCBA] and the intemperate language used. It resolved that the false assertions made were unfortunate and unbecoming of the president of the DHCBA who also happens to be a law officer of union of India".
12,000 lawyers affiliated to the DHCBA apprehend the loss of work to lower courts if the proposal is implemented. [IANS]
The DHCBA had on 22 November addressed a two page notice to the HC's judges criticising the 21 November proposal of Murugesan, and had said that there was no way the proposal could have passed if the DHCBA was consulted before making it, reported Legally India.
Exclusive: The Delhi High Court Bar Association (DHCBA) executive committee (EC) called on lawyers to boycott the court's additional judge Valmiki Mehta today, for his allegedly excessive imposition of costs on an unprecedented scale in matters before him, and for passing "brusque remarks" against "some senior lawyers".
However, some general body members of the association opposed the "humiliating" view.